You-Know-Who
is still down with the flu, so we're reading books - lots and lots of Christmas books while the snow melts into ice outside. Our faves:
Shall I Knit You A Hat?: A Christmas Yarn
This is such a sweet story, about a mother rabbit who knits a hat for her little rabbit, who then wants to make hats for all of his friends (horse, cat, deer, dog, and squirrel) before the blizzard hits. It makes us want to bake carrot cake and then curl up to knit some hats.
Mortimer's Christmas Manger
A mouse without a house says "There's no room for you here" to the baby Jesus, then finds a house of his own. By the author-illustrator team who created
Bear Snores On
, one of our bedtime faves.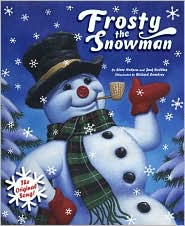 Frosty the Snowman
This one is particularly special to my family, because author
Jack Rollins
was one of our relatives (he also wrote
Here Comes Peter Cottontail
). See Darcy Pattison's
Frosty the Snowman's Top 6 Writing Tips here
!
Eric Carle's Dream Snow
When I bought the book years ago, I never imagined I would one day have a You-Know-Who that would be so delighted at the turning of a page or the pushing of a sparkly button.
Classic Books from the Family Vault
, like
The Night Before Christmas, The Nutcracker, Away in a Manger, The Little Christmas Tree, and The Christmas Story
.
And while You-Know-Who closes her eyes or blows her nose, I sneak in a page or two of my Christmas read...
Audrey, Wait!
...and dream about making the
cool felt garland
Laini Taylor
found.
"Let's make carrot cake now," says You-Know-Who. Hmmm. Maybe she's not so sick after all...?