A quick
readergirlz
update, since I seem to have caught something ugly. Very ugly. I will spare you the details and say only that I'm very glad to be alone and moaning in bed when this uploads. Ugh.
Anyways, tomorrow night (Thursday, 6pm Pacific/9pm Eastern) we have
Meg Cabot
- MEG CABOT!!!! - live
at the readergirlz forum
. Find all the info
at the readergirlz blog
.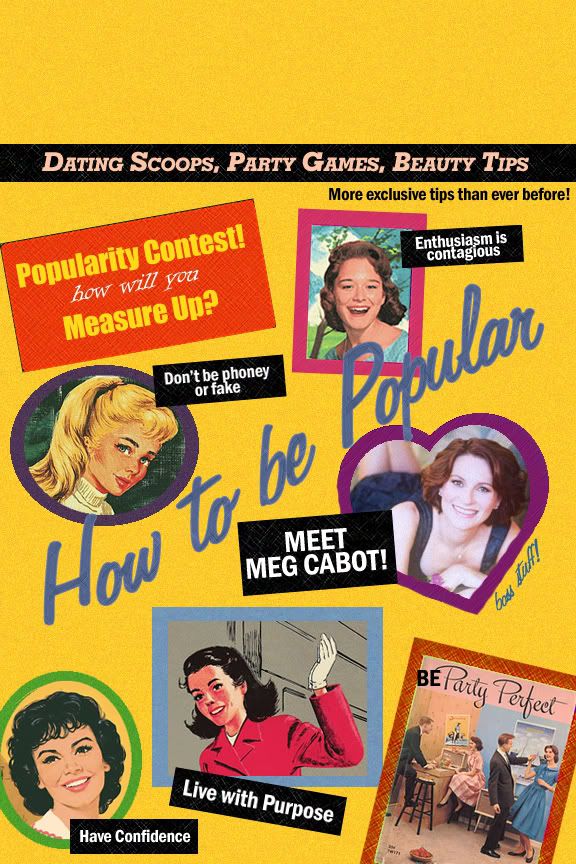 Here's the MySpace background I designed for this month's featured book,
How To Be Popular
, only we streamlined to the new,
Facebooky-looking MySpace design
- 'cause all the cool girls are doing it (check it out and let us know what you think). It's based on an actual 1950's mag design, and the blurbs are from the cover of Meg's novel - esp the ones I thought were pretty good advice!
Diva Lorie Ann
has released her adorable board book,
Hug Hug
- see the press release
at her blog
or on
readertotz
, the new baby sister blog to readergirlz celebrating "quality infant-toddler books for the youngest readers." I have a tot myself. Brilliant.
Little Willow's Book Bag
is out, plus a discussion of the creepy but alluring
Twilight dolls
. And Meg Cabot will
at the forums all month
, chatting about 70's music, embarrassing moments in white skirts, parties, and what it really means to be popular.